Center of Latin American & Border Studies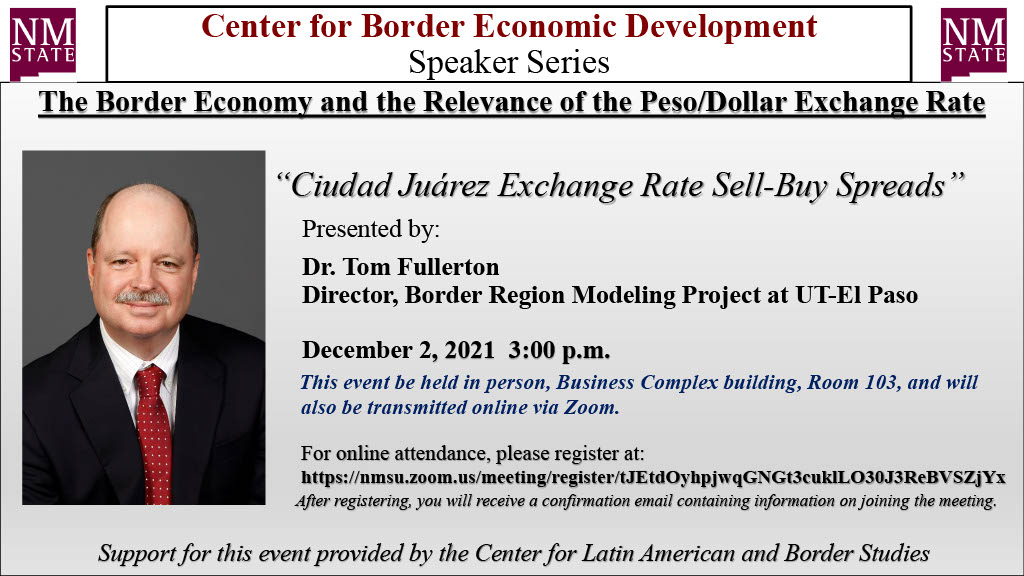 C-BED Speaker Series
The Border Economy and the Relevance of the Peso/Dollar Exchange Rate
Featured Speaker: Dr. Tom Fullerton
"Ciudad Juárez Exchange Rate Sell-Buy Spreads"

December 2, 2021
3:00 pm
Dr. Tom Fullerton is the Director of the Border Region Modeling Project at The University of Texas at El Paso (UTEP).
Dr. Fullerton is Professor of Economics and Finance at UTEP. He holds the Endowed Trade in the Americas Chair at the UTEP College of Business Administration. Fullerton holds degrees from UTEP, Iowa State University, Wharton School of Finance at the University of Pennsylvania, and University of Florida.
The event will take place at NMSU's Business Complex building, room 103, and will also be available online via Zoom for those who cannot make it in person. 
You can register by clicking this link: